CLASS Project
CLASS Team
Media
CLASS Project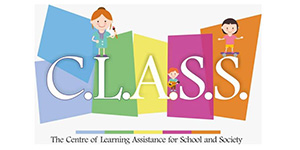 C.L.A.S.S.
The Centre of Learning Assistance for School and Society
The project addresses some vital EDUCATION needs of the society and contributes to the DEVELOPMENT OF SUSTAINABLE COMMUNITIES by designing/tailoring and implementing education-based activities. We aim at training and strengthening individual skills (self-confidence, self-respect, critical autonomous thinking etc.), social skills (accountability, cooperation and proactive communication, etc.) as well as encyclopaedic and language knowledge that shape and round the young people's personal and professional growth to meet the current society and market requirements.
Our mission: to foster an achievement-oriented environment that secures the fulfilment of the fundamental needs of integration, affirmation and social recognition towards personal growth. By designing and developing integrated hands-on activities, we aim at long-life learning and skills training so as to facilitate the individuals' smooth integration to and engagement in individual and community life.
C.L.A.S.S. promotes cooperation, mutual support and respect among our community members, based on the principle of individual valuing. To materialise our vision, we have joined our efforts for the design and implementation of two integrative education-based programmes:
C.L.A.S.S. AFTER-SCHOOL
The after-school programme includes highly productive learning activities, harmoniously combined with leisure time for the children attending our tailor-made programme:
study and leisure activities
personal growth workshops
homework help prep and revision
play and learn - foreign languages workshops
C.L.A.S.S. MODERN LANGUAGES
We strongly believe in the power of communication!
Within a communication-based framework, our foreign language trainers deliver learner-friendly classes:
English Language Workshops
German Language Workshops
Spanish Language Workshops
French Language Workshops
Italian Language Workshops
CLASS Team
Ciobanu Ionela Miruna
"Studenții au nevoie de exemple de bune practici pe care să le fructifice și la rândul lor să le pună în practică, așadar, ceea ce CRAF a dezvoltat până în acest moment, este o modalitate de a ne crea alte așteptări, de a conștientiza faptul că facultatea înseamnă și practică. Pentru mine, CRAF înseamnă dezvoltare personală și conștientizarea necesității de responsabilizare față de problemele comunității."
Murgu Diana-Maria
"Consider că experiența CRAF este una inedită și benefică, ce are un impact pozitiv prin contribuția sa la formarea de deprinderi utile. Aceasta mi-a oferit oportunitatea de a interacționa cu persoane interesante și de a lua parte la diverse activități constructive bazate muncă în echipă."
Stamatescu Raluca
"Cu toate că nu a trecut mult timp de când fac parte din fenomenul CRAF pot afirma că tot ce s-a întâmplat până acum a reprezentat o lecție, întrucât am avut posibilitatea de a învăța un mod diferit de lucru și nu pot considera acest lucru decât cea mai mare oportunitatea ce mi-a fost oferită până acum."
Drăguț Irina
"Din punctul meu de vedere, CRAF este un concept inovativ prin care tineri sunt susținuți în vederea valorificării pe deplin a potențialului. Pentru mine experiența CRAF este una benefică, pentru că mi-a oferit posibilitatea de a interacționa cu oameni noi și să particip la activități interesante, care au contribuit la dezvoltara mea personală și profesională."/p>
Rîjniță Iuliana-Mădălina
"În cadrul programului CRAF am descoperit lucruri noi, noi experiențe și noi practici de urmat și aplicat în viața personală cât și cea profesională. Pot spune că activând în acest program mi-am lărgit orizontul de cunoaștere, am învățat noi tehnici pentru o colaborare mai bună într-o echipă și aștept cu nerăbdare următoarele provocări pentru a face imposibilul posibil."
Media