GoodWillb Project
GoodWill Team
GoodWill – Arts Hub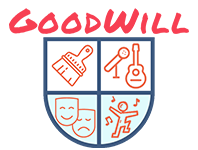 GoodWill – Arts Hub
The #GoodWill project is one of the winners of the #FREC2020 challenge, aiming to become the place where children and young people from Craiova have the opportunity to develop their artistic skills in a friendly environment.
Through this project we aim to discover and develop the creative skills of children and young people, facilitating the social inclusion of those with less opportunities, coming from disadvantaged backgrounds, with disabilities, or members of ethnic minorities.
The activity of GoodWill is centered around four art workshops, as follows:
Dance workshop
Music workshop
Drama workshop
Painting workshop
At the same time, we plan to organize two interdisciplinary events annually, open to the general public, with the participation of all those registered for the GoodWill workshops.
"Arts have the power to transform lives and communities".
Our Team
Vîlcea Bogdan
Mutu Roxana
Coșoveanu Cristiana
Florea Cătălina
Vîlcea Mădălina
Boruzescu Patricia