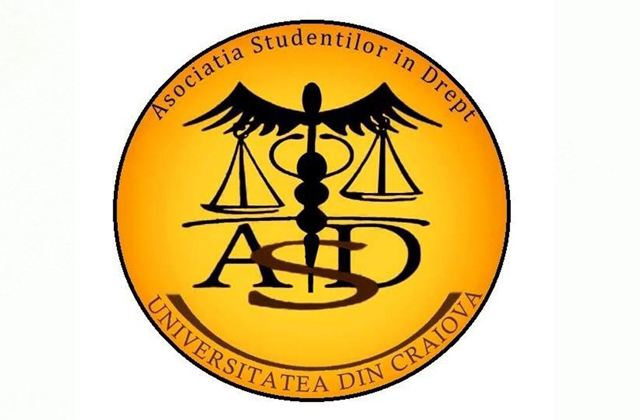 Association of Students in Law (A.S.D.- U.C.)
It is a non-governmental organization of the Faculty of Law and Social Sciences, University of Craiova, which represents and defends the interests of the students, both socially and administratively.
Founded in 2001, the Students Association in Law aims to be an interface between the management of the Faculty, the University, and students. According to the motto: "Amor Societatis nostra Lex", A.S.D.-U.C. aims to provide a framework for the cultural development of the students of the Faculty of Law and Social Sciences through the promotion of ethical principles and civic determination.
Being a vivid expression of the student initiative, A.S.D.-U.C. runs the following activities:
it ensures the fulfillment of the aspirations of its members by capitalizing on free expression and, at the same time, preserving the proactive academic spirit.
the association organizes various educational, research and entertainment projects, such as: mobility schemes (Craiova - Bucharest Law Highway), charitable projects (Soul Justice, Blood Donation); sport championships; Studentiada; Trannings; Towards a Successful Career; Volunteer Today, Entrepreneur Tomorrow, etc.
Also, ASD-UC supports and promotes the ERASMUS experience.
As a founding member of the Romanian National Union of Students, it is involved with UNSR in national projects such as Studenţiada, Blood Donation Campaign, etc.
In accordance with national and international law, the Students Association in Law proves to be a true supporter of democratic values, and this means for students of the Faculty of Law and Social Sciences of the University of Craiova, principality, integrity, and last but not least, unity; A.S.D.-U.C. is today undoubtedly an essential exponent for the social and professional development of all students.
Please visit us and see what it is all about: https://www.facebook.com/ASD-UC-188293501210804/?ref=bookmarks