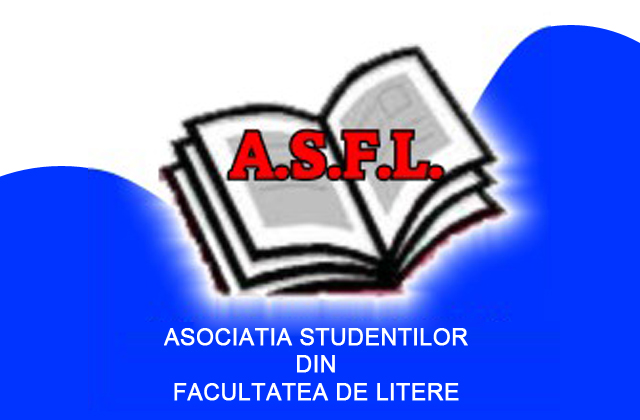 The Student Association of the Faculty of Letters
The Student Association of the Faculty of Letters (ASFL) is a student organization, established in 1990, reorganized in 2008 and in 2010, which has the right to represent the students of the Faculty of Letters.The association became recognized at local and national level after its accession to the Convention of Student Organizations of Craiova (COS) in March 2008 and then to the National Students Union of Romania (UNSR) in May 2008. ASFL has been recognized as being the only representative NGO of the faculty.
We, the volunteer students of the Faculty of Letters, have a special way to perceive the life. The reading, the writing, the music, the theater combined and contributed to build up our personality.
Through our activities, our members:
defend and promote the professional, social, cultural and material interests of the students of the Faculty of Letters;
manage to make the democratic rights and freedoms of man and of the citizen respected;
promote the free flow of information between its members as well as with the members of other student organizations;
ensure the transparency, promote the decisions made in faculty regarding the students and organize different competitions in order to ensure non-formal trainings for each student;
ensure the freedom of creation (artistic, scientific).
Also, the ASFL activities are focused on local actions:
informational campaigns on different funding programs for NGOs and youth participation at a wide range of non-formal learning programs;
recruiting young people to participate at the activities of the organization;
non-formal educational activities in schools;
trainings for members;
socializing and teambuilding activities as well as international activities in order to find partnerships for international projects;
participation in seminars and international trainings;
liaising with organizations from Europe in order to organize projects.
International Projects:
"Transeuropean Journey: Breaking Down Stereotypes"
"IN and OUT of EU: Breaking Down Stereotypes II"
"Your life matters: STOP smoking!"
National Projects:
- For educational purposes:
The Poetry Festival "Alexandru Macedonski"
Colloquies of literary art
"Poetry-An Immortal Art!"
"Career Forum-FoCar"
"Your career matters!"
"The Caravan of the NGO's"
- For charitable purposes:
"Help them out from the little that you have!"
- Personal development:
"More love, no drugs!"
"1,2 Step"
"Be an Entrepreneur!"
"Choose Volunteering, Build Up Your Future!"
Teambuilding
- Entertainment:
Freshmen Prom
Karaoke Evening
Students Party
- In partnership with the University of Craiova, the Convention of Student Organizations of Craiova (COS) and the Center for Conceiling and Orientation in Career:
"Our Students Can Do More!"
"The Days Of Open Gates"
"University Football Cup for Oltenia High Schools"
"To form a team is just the beginning, to stick together is progress, to work together is success". - Henry David Thoreau
We will always be a team, the ASFL team!
More details can be found on the association's website: http://asfl.ro/
https://www.facebook.com/ASFL-Craiova-676265012497412/